I'm excited to announce that my new, steamy science fiction romance Hers, Times Two is now available, and it's only 0.99 USD during the first week!
---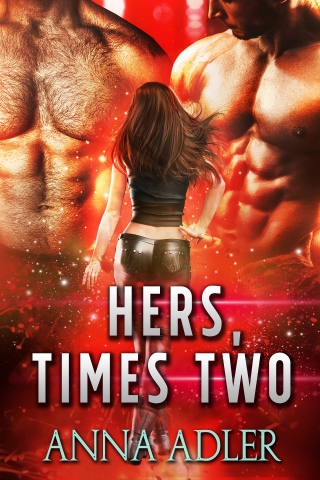 ---
Two fierce males. One tough woman.
But are they strong enough to confess their love?
Space pilot Eliza Arroyo Diaz has a mad crush on two of her crew mates, but judging by their reserved behavior, the feeling is not mutual. She doesn't dare confess that she fantasizes about a three-way relationship with them. And even if the guys were somehow open to the idea, Liz has secrets that could cause her dismissal from the crew if they were found out.
Zaster and Jackal are obsessed with Liz, but they can't bring themselves to tell her about it. What human woman would welcome the idea of a Crasnian alien and a human-alien hybrid wanting to share her, body and soul?
But as Liz seems to spend a lot of time with Rogue, the ship's medic, Zaster and Jackal struggle to keep their distance. Can they find a connection with their chosen mate, or will the ghosts of the past ruin their chance for a happy end?
Note to reader: This is a steamy science fiction romance featuring action, suspense, and intense love scenes between the three main characters. It's the fourth book in a series but can be read as a standalone. HEA guaranteed! If you enjoy hot romance involving not one but two beefy aliens, this might be the book for you!
---
Available at Amazon, Apple Books, Google Play, Barnes & Noble, Kobo, and Vivlio.
To celebrate the new release, I've put the whole series on discount until June 7th, 2021. Book 1 is free, and Books 2-4 are 0.99 USD each. The prices in the international stores are discounted based on the US price.
So if you're new to the series and looking for some very steamy scifi romance, now's a good time to get them all for a good price!
---
Hers, Times Two was my first time writing a threesome – Liz, Jackal, and Zaster talked me into it – but it definitely won't be the last. Despite the challenge of balancing three characters, I enjoyed it so much that I'll want to do this again. My main focus will remain on M/F-pairings, though.
This series is not over yet! I'm currently plotting Hers #5, where we'll be back on Silenia with new characters. I hope you'll stay tuned. 😉