Hi everyone! I'm so excited I don't know which way around to start this post. The important date maybe? Yeah, that's good. The audiobook edition of Hers, Untamed is coming out on December 15th 2021. Yay! 😀
---

---
Currently available for pre-order on Google, BingeBooks, Apple, Chirp, and Libro FM with more retailers to follow soon.
---
And wow, this has been long in the making…
Since Hers, Untamed is told entirely from one (female) point of view, I decided to narrate it myself because why not. It seemed like a good idea. I thought narrating books was EASY! Just buy a good microphone and get started.
Uh, yeah.
On afterthought, writing a book is easier than reading one aloud.
I quickly discovered an infinite number of ways I could mess up reading my own book. I know every single word in it, yet I still messed up the word order, omitted words, or inserted wrong words by accident. Other issues included reading too fast, reading too slowly, my voice being off, the sound clipping because I accidentally breathed into the microphone, etc. etc.
Re-recording and editing took a long time, and it didn't help that writing new stories is my priority, so this audiobook became an infinity project that I only worked on when I wasn't writing.
It was a fun challenge though, and I'm proud of the result. I hope you listeners are going to enjoy it too!
---
Below is a five-minute sample (originally published here in my blog in August 2020):
---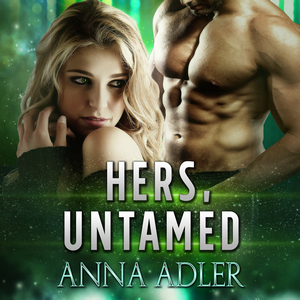 ---
In case you're wondering about my (hopefully very small) accent, I'm Finnish (born and raised in Finland), and despite my best efforts to hide my accent under something broadly North American-sounding, I don't always succeed.
Anyway, if you want to listen to me read aloud to you, or if you've in general been eager to have Hers, Untamed in audiobook edition, December 15th 2021 is the big day!
---
My other books will also come out in audiobook format later on, but I'll hire professional narrators for them. My self-narrating experience taught me that while fun, it simply takes too long, and I'd rather direct all my focus on writing.
---
AND SPEAKING OF WRITING
I'm working on new books! I have a contemporary romance under works, as well as the next scifi romance in the Silenia-universe. I hope to get them both out in 2022, so stay tuned.