Hi everyone! I'm getting close to finishing the fifth book in my super steamy Scifi Romance series, and I'm excited to show you the cover art. 😀 Melody Simmons did an absolutely stunning job. Take a look!
---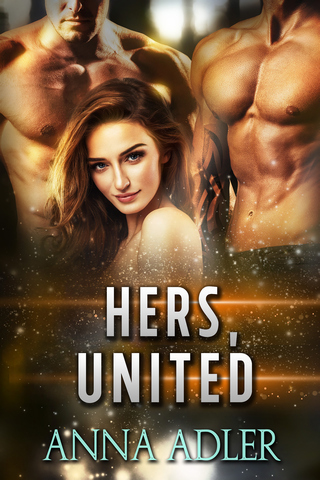 ---
Riley Griffin has two problems.
They're called Talon and Dagger.

The two male hybrids were arrested on Silenia trying to kill each other, after which they were locked up in an impromptu drunk tank to cool down. As the psychologist on duty, it's Riley's task to talk sense into them.

Talon and Dagger are part of the Raptor Clan – a group of Taraseban hybrids freshly landed on Silenia. Dagger, disillusioned with his clan, just wants to get drunk. Talon, furious with Dagger's betrayal, wants to tear him apart. When they meet Riley, both of them want her with passion they've never experienced before.

Now, Riley has to battle her own attraction to the two fierce warriors while discovering the forbidden desire at the heart of their conflict. Can she reconcile the two men before their time on Silenia runs out, or is it simply too late for a happy end?

Note: This is a dystopian MMF science fiction romance featuring action, suspense, and steamy love scenes between the three main characters. It's the fifth book in a series but can be read as a standalone. HEA guaranteed! If you enjoy hot scifi romance where human women desire beefy alien males who swing both ways, this might be the book for you!
---
This book was actually supposed to be a short story. After Hers, Times Two (Hers #4) I felt I wasn't yet done writing menages. It was so much fun! So I decided to write a quick and dirty short, this time with a gay aspect in the menage, just for my guilty pleasure, before tackling the next complete book in the series (working title: "Hers, Uncaged").
I started happily typing away, but by the time I got to the end, I was close to the 60,000-word mark, which is about the same length as all of my other books.
Okay, so it's a novel, after all!
It turned out to be a lucky accident because I anyway needed to show what happens on Silenia when thousands of hybrids from Taraseba show up. It's an important part of the series plotline. Plus, I loved Talon and Dagger so much that I felt they should have more than just a few quick chapters. I can't wait to share the guys with you and I hope you'll enjoy them as much as I do!
---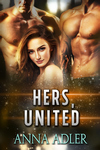 ---
Hers, United will be published this summer on the major ebook retailers (Amazon, Apple, Google Play, Kobo, and Barnes & Noble). I'll upload the first chapter here in the blog in the next couple of weeks so you'll be able to sample the story.
I have to go back to the writing cave now. I still have so much writing and editing to do it's scary! 😀