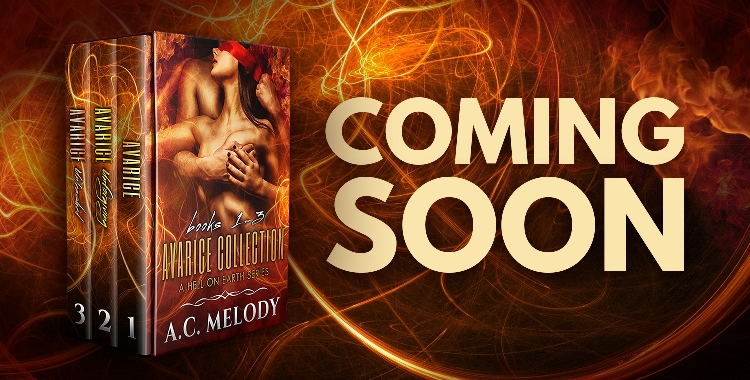 A.C. Melody's intense dark paranormal romance trilogy Avarice is coming soon in a box set AND in paperback! The launch date for these goodies is October 31st, and this is no coincidence because Halloween plays an important part in the story.
If you're looking for a darkly erotic BDSM and Halloween-themed read for Halloween, definitely keep an eye out for this baby. I can't wait to grab my copy!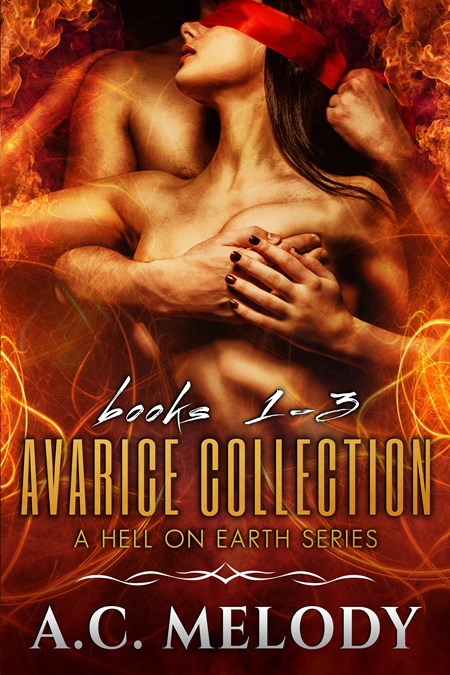 BLURB
Devils Only.
It was a permanent note-to-self right above her panties, because anything less was a disappointment. She never meant it as an invitation…
Avarice is what makes the world go round, and Kameo Kross never cared to be an exception to the rule. Her sole ambition is to avoid joining the ranks of New York's poorest denizens. Between a bastard of a new boss and a Dom who tempts her darkest, depraved needs, Kami reevaluates her goal for sanity's sake. She doesn't fear pain, death or eternal damnation, but the idea of submitting completely has her itching to run.
Unforgiving, destiny's twisted plot thrusts Kami into a world she'd never feared existed, and the crosshairs of an enemy threatening to expose all of her shameful secrets to the media. As her life is completely altered, good versus evil becomes a matter all too personal. Yet, nothing's more difficult than facing the truths of her heart, and finding the courage to embrace the kind of submission she's always longed for.
Unleashed in a hailstorm of fury, Hell will come for those seeking glory from Kami's missteps and she'll face off with the Devil, himself, to get what she's finally accepted as hers to have: Happiness. As the calendar races toward Beltane, sordid plots of single-minded obsession and greed continue to thwart their eternal bliss, but the real challenge awaits in the aftermath of retribution. Can Kami and her Master find some semblance of redemption in one another at last, or will the demon within change everything?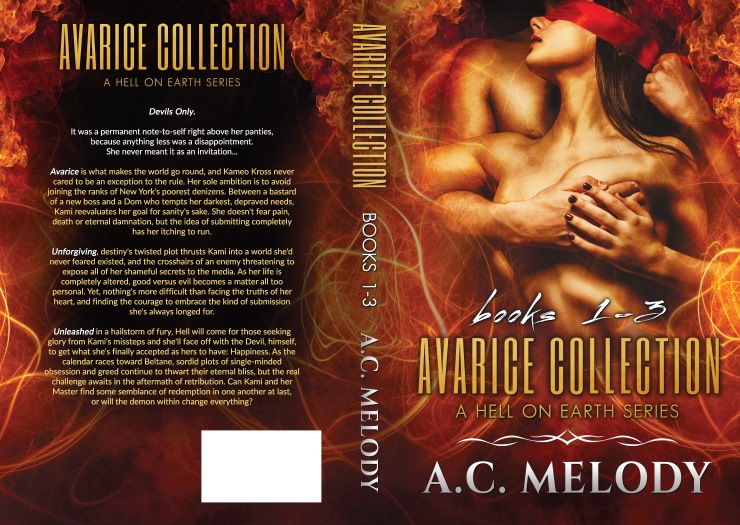 ABOUT THE AUTHOR
A.C. Melody is a hybrid author of Erotic Romance and all its savory sub-genres. Confessed javaholic, introverted geeky girl with a twisted sense of humor and a wretched muse. She has a weakness for hard ass Alphas and the strong women who capture their hearts, without damaging their rough edges.
A lifetime lover of fairytales, myths, legends and ancient pantheons, A.C. spends more time researching than writing. Her biggest goal is to provide new, captivating angles on old, favorite tales with enticing twists and characters that redefine preset expectations.
She's 100% guilty of placing all her money on the underdogs, anti-heroes and shameless whores. When A.C. isn't writing or doing the day-job gig, you can catch her gaming, binge-watching Netflix or anxiously awaiting the next superhero movie (specifically, Deadpool 2). A.C. loves to hear from her readers and can be found at any of the following sites:
A.C. MELODY'S BLOG – FACEBOOK – TWITTER – INSTAGRAM – GOODREADS – AMAZON