Title: Hearthstone Alpha (The Úlfrinn Series #1)
Author: A.C. Melody
Publisher: Red Sage Publishing
Pages: approximately 300
Genre: Contemporary Paranormal Romance – Wolf Shifters
Release Date: June 1, 2017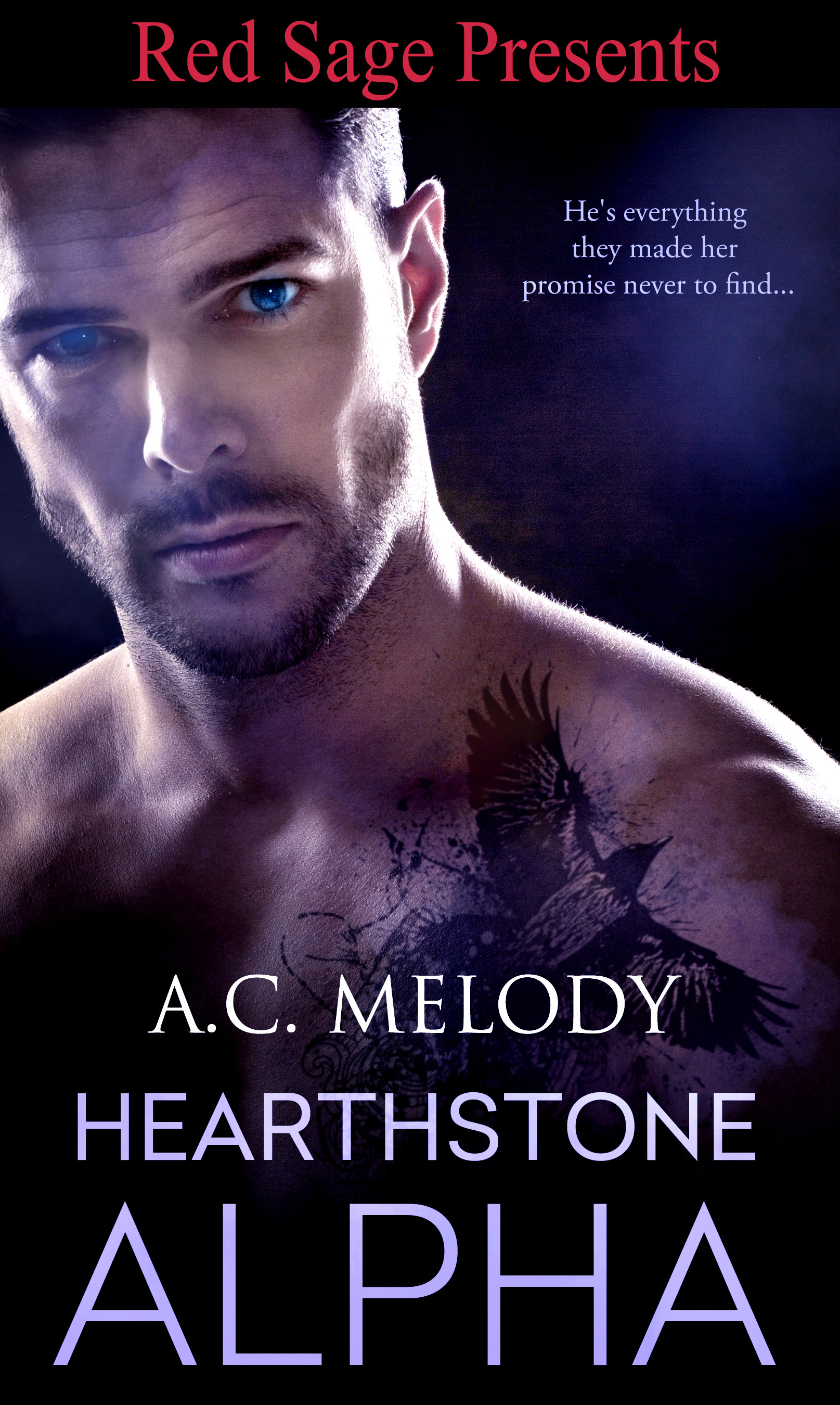 Blurb:
"All Reyna Daniels wants is to secure her return home to Minneapolis to be with her family. The last thing she needs is to find her world completely inundated by the magnetizing, hostile Corbyn Bruschard and his group of male-model friends.
Corbyn's not ashamed at being everywhere, since it's his territory, and he's certainly not going to apologize for trying to keep Reyna safe. Especially, when she's his mate.
With all signs pointing to an old enemy's return, Reyna's going to have to suck it up and face her ancient Norse heritage fast, whether she's ready to or not. That doesn't mean she has to accept being mated to an Alpha who threatens all of her hard-earned independence."
Add Hearthstone Alpha to your Goodreads TBR: https://www.goodreads.com/book/show/35003050-hearthstone-alpha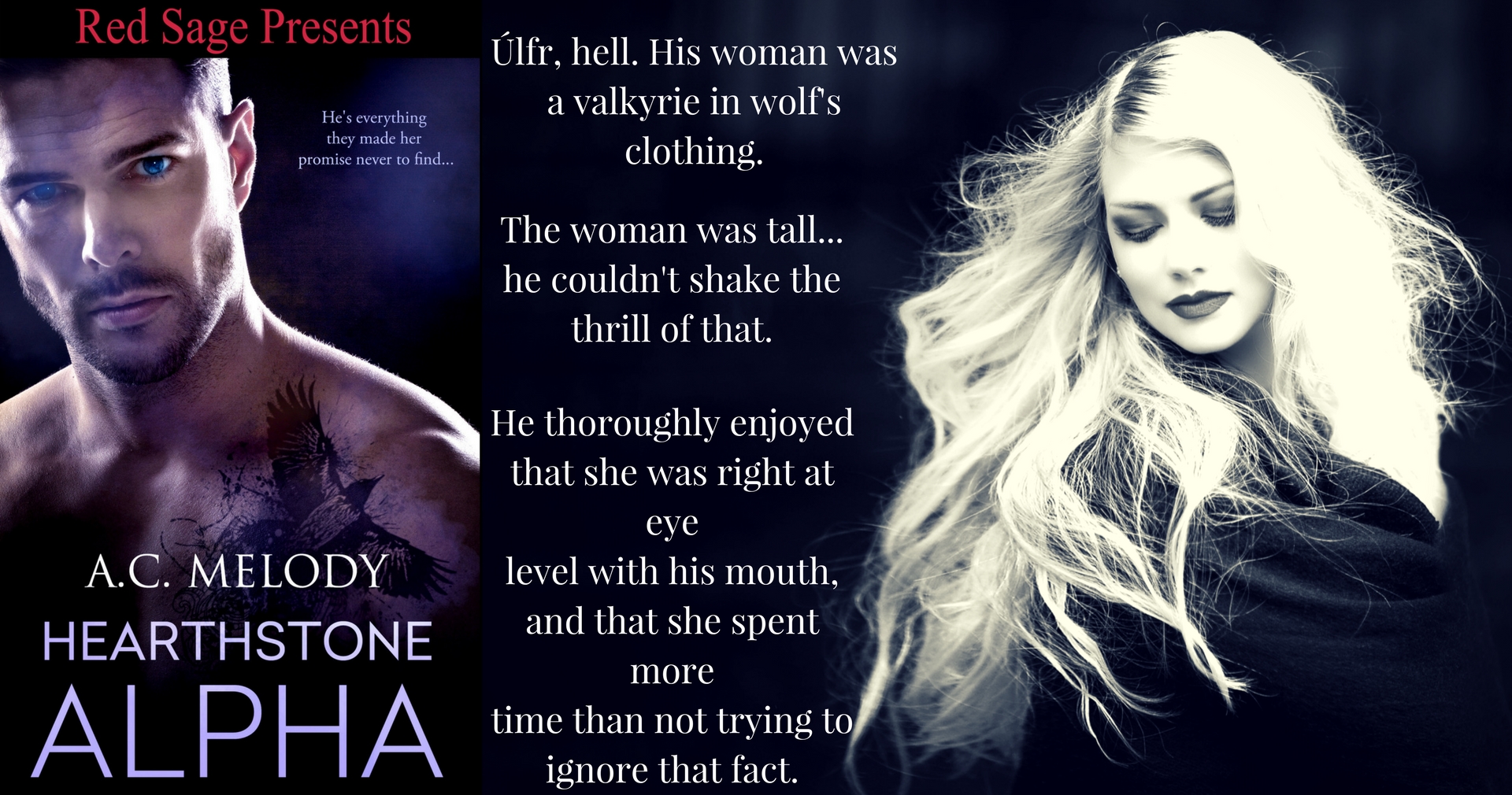 AUTHOR INTERVIEW WITH A.C. MELODY
And now on to a special treat! I am super pumped because I got A.C. Melody to answer some questions for me. Here's my interview with her.
Hi A.C., I'm so excited to have you here! Please tell us a little about yourself.
Hi! Thank you for having me, Anna, this is a lot of fun. A little about myself: Well, it should come as no surprise that I am the Overlord of the Darkside. No? Too much? Okay… I'm really a humble Army brat, who spent the first decade of her life moving around a bit, a self-professed gamer, which really means I have an occasional fling with my PS4, never as often as I'd like! I'm also my family's genealogist, the daughter of a musician and a mom – all outside of my day job – which sadly, doesn't come with any minions. Oh, and sometimes I write books.
The final installment of your Avarice trilogy just launched on April 30th. Congratulations again! I love Avarice. Now you have the first book in a new series coming out already. Tell us how this happened.
Thank you, I'm so thrilled to have the whole trilogy out there now. I know, it seems like I have writing superpowers, right? I wish! Actually, I wrote Hearthstone Alpha and its second novel long before writing Avarice, but they've been with my publisher for a few years. With so many other authors, it takes them about 24-48 months to get a book out on the market. Since I self-published the Avarice trilogy, I was able to get it out there much faster.
You're a hybrid author. You self-publish some of your books, but you also have a traditional publisher. What do you think are the pros and cons of self-publishing versus traditional publishing?
The biggest Pro for self-publishing is having complete control over every aspect of your creation from start to finish, being able to fine tune it all the way up to release day, and having that happen sooner, as I mentioned above.
The largest Pro for traditional publishing (which in turn is the largest Con for going Indie) is the lack of expense. My publisher covers the costs of all my editing, cover art, book formatting, etc. So, I can publish without any upfront cost to me, but, I do have to pay for my own marketing either way.
You write a variety of romance sub-genres including contemporary BDSM erotica (The Dark Day Isle-series), dark paranormal erotica (Avarice), and futuristic romance thrillers (The Zen Lounge). Hearthstone Alpha is a paranormal romance featuring wolf shifters. Which of your genres do you find the easiest to write? And which one the hardest?
What a good question! I think each genre comes with its own unique difficulties and advantages. The paranormal and futuristic allow more creative freedom, I'm able to make things up that I don't have to research as much, or that I can get accurate enough before putting a creative spin on it. I think the contemporary is the hardest, because I have to keep everything realistic and limited to human abilities, behaviors and scenarios. I've found it takes more effort to create that tension between characters or in the plot, itself, when there's no supernatural or scifi element to act as a kind of catalyst.
Avarice is packed with mythology, and in Hearthstone Alpha the hot male protagonist Corbyn peppers his lines with Icelandic. How much research goes into your writing? I suspect you spend a lot of time reading about all kinds of things.
Yes, I spend way more time researching than writing, and only about a quarter of that ever makes it into the stories, because I still want them to be entertaining, not read like text books in school. Mythology is difficult to research, because everyone has an opinion and there are so many variations of the same subject. I search my hardest for the origins, if it's to be found, back to the oldest known source of the story, myth, scripture, what have you.
With other cultures, you run the risk of coming across disrespectful or offensive, so I try to be as precise as I can and will cross reference until I'm satisfied I have the most accurate information possible. Icelandic is known as one of the hardest languages to learn, but out of all the Scandinavian dialects, it's the least evolved from Old Norse, so I knew that I wanted to use it. I got lucky and found videos on Icelandic phrases by a native who still lives there, so I feel fairly confident those are accurate and I just love how exasperated Corbyn gets with Reyna's ignorance – but I'm right there with her! Here's an example of an Icelandic word that sounds nothing like it's spelled:
"Do you really think distance keeps you safe, falleg?"
Fawk…what? "Did you just call me fugly?" she snapped.
"Not even close…"
What's your favorite aspect of Hearthstone Alpha? What was the most fun to write?
I didn't know much about real wolf packs or Norse Mythology before I started this series, so getting the opportunity to learn more about both and being able to use that in such a creative way has been a very exciting journey for me. Mostly, I wanted to sate my own curiosity. Of all the wolf-shifter books I've ever read, I always felt disappointed on two main points: One, that the pack was used as antagonists against the main wolf – or – two, that I never got to see 'inside' the pack. I wanted to explore the pack dynamic, rather than them just being a flat backdrop behind the main characters. In Hearthstone Alpha we have all these wolves living, working, eating together, and we get to see their bonds, along with the inevitable tensions – they're a family and family doesn't always get along, but they always have each others backs when it matters most.
I also dislike the overused cliche of wolves fighting for the Alpha position, so I took that right out of the equation. It's not even a possibility. Corbyn's the Alpha and that can't be taken away from him, but in turn – how does a good leader take on that kind of responsibility with so many lives depending on him, enemies breathing down his neck, a stubborn mate, family drama and absolutely no way out of it? (I told you I was the Overlord, but you didn't want to believe me…) LOL
Hearthstone Alpha is the first part of a duology. When can we expect the second part?
Little Queen is the second book and will be released on July 1st, just 1 month after Hearthstone Alpha!
You live in the Northwestern US. I've never been there, but I hear it's beautiful. How does the area where you live influence your writing?
All of my earliest writings took place in this exact setting, because it was the only one I was familiar with. Evergreen forests, mountains, rivers, lakes, it's beautiful scenery and works for many genres. But, I'm an explorer at heart and have always dreamed of traveling the world. Over the years I've visited a few different places and each time, I was happy to return home to the Pacific NW. I couldn't imagine living anywhere else, so I think the greatest influence it has on my writing now, is that I can use Google Earth to plot scenes in places I've never been, like Manhattan, Nevada or Fiji, but every time I look out my window, I feel completely happy and content with where I'm at. It still has the ability to take my breath away, and anything that does that, has some kind of impact on your creativity.
Let's go crazy. What's the biggest imaginable thing you'd want to see happen to Hearthstone Alpha? Selling the movie rights to a big studio? Having a TV-series made out of it? The Nobel price in literature? Millions of rabid fans and doing a book tour around the world?
Oh man, I have to pick just one? I would love to tour the world and meet with fans (preferably not rabid), but I would equally love to see it turned into a TV series. For this story line, I could see that over a movie deal, and what an amazing adventure that would be! Can I do both?
Thank you so much for this talk, A.C.! This was great fun.
Thank you again for having me on your blog today, Anna. This has been a wonderful experience and you ask really great questions!
Here's where you can find A.C. Melody:
Blog: https://acmelodyblog.wordpress.com
Twitter: https://twitter.com/AuthorACMelody
Instagram: https://www.instagram.com/a.c.melody
Facebook: https://www.facebook.com/AC.Melody.77
Amazon Author Page: https://www.amazon.com/-/e/B011PTY1PO
Author bio:
A.C. Melody is a hybrid Author of Erotic Romance and its many sub-genres. Confessed javaholic, introverted geeky girl with a twisted sense of humor and a wretched muse.
She has a weakness for hard ass Alphas and the strong women who capture their hearts, without damaging their rough edges. No matter how submissive or demure, her female leads have a core strength and a willingness to admit their own flaws and evolve, not just demand that of their men.
When it comes to gambling, A.C. admits she's 100% guilty of placing all her money on the underdogs, anti-heroes, and shameless whores.
Sign up for A.C. Melody's Author Newsletter today & get exclusive Cover Reveals, Excerpts, Character Interviews/Bios and join in giveaways (She promises not to spam!): https://eepurl.com/cb9D7H