I'm so excited to announce that my new book Hers, Unleashed will be published on May 15th, 2020! I know…it's about damn time you published something, Anna. I'm so sorry it has taken so long. But take a look at the cover below, isn't it hot? 😀
Cover image designed by the amazingly talented Melody Simmons.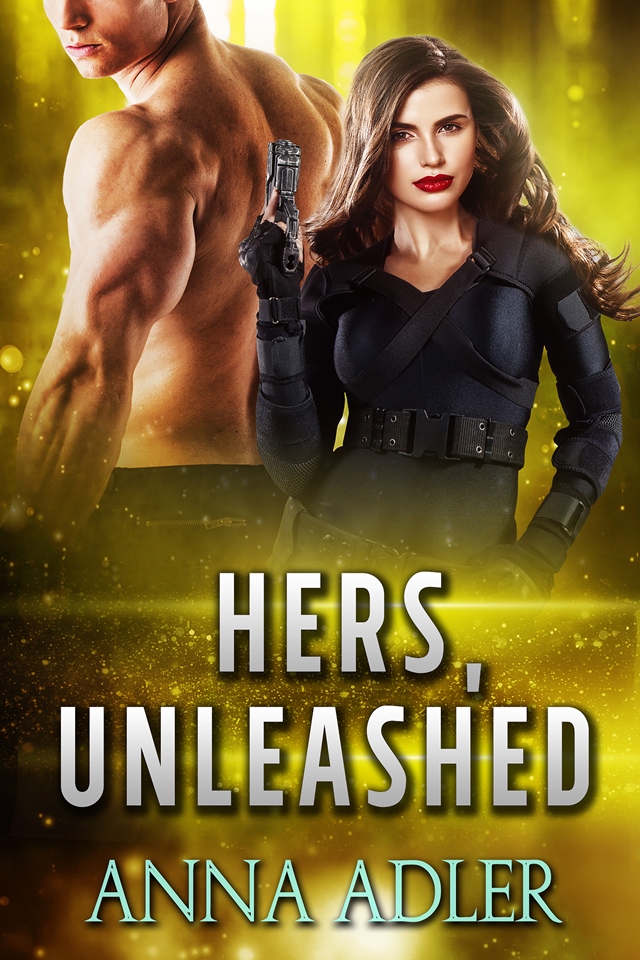 Here's what the story is about:
Hot. Obedient. And he wants to be hers. What could possibly go wrong?
Silenian security guard Kaitlyn Bennett has won the proverbial lottery. A male hybrid matching all her fantasies has chosen her from thousands of other women. For three months, he will be her personal sex toy – a dream come true made possible by the planet's new legislation.
Roth is in desperate need of a hideout, and becoming a sex pet on Silenia is the perfect way to disappear. All he has to do is entertain his beautiful human Mistress until his enemies give up the search – and be paid for the pleasure. What could go wrong?
As it turns out, a lot. The Traditionalists on Silenia have had enough of the new order, and Kaitlyn and Roth end up fighting side-by-side against the rising crime. Roth discovers he enjoys his new role, almost as much as he enjoys being the object of Kaitlyn's desires…
But as Roth's time on Silenia comes to an end he has to decide which he wants more: his money or the woman of his dreams. And when disaster strikes, is the bond between Kaitlyn and Roth strong enough to save Silenia, or will his secret be the end of them all…?
Note to reader: This is a dystopian science fiction romance featuring action, suspense and steamy love scenes between the main characters. It's part of a series but can be read as a standalone. If you enjoy hot scifi romance where human women lust after beefy alien males, this might be the book for you!
Hers, Unleashed will be available on Amazon, Google Play, Nook, iBooks and Kobo. It'll be up for preorder soon (meaning, as soon as I finish formatting and get it uploaded). In the meantime, feel free to click this button and add it to your TBR shelf on Goodreads:

SO WHERE HAVE YOU BEEN, ANNA?
2019 was a bit of a rough year for me. Nothing too dramatic happened, it was just the sum of the whole. I had some health issues, partnership issues, social media burnout, writing failures and so on. I did write a book that was supposed to be a 2019 release, but I ended up scrapping it instead of publishing it.
I'm so sorry if you were looking forward to a book and ended up disappointed. I feel terrible about it.
The good news is that I have myself better sorted out now and I'm (still) crazy excited about writing. I have plans for several more scifi romance books in the Silenia-universe, and I really, really want to write the contemporary hitman romance that I've been promising for…how many years now? I can't wait to get to it. I have no lack of story ideas, the problem is just that my writing process is/was volatile and unreliable, and any little Real Life stress broke my flow. Unacceptable. I'm working hard to get better at plotting and outlining, which should ensure that I'll actually get my stories written down in an orderly fashion.
If you're reading this, thank you for sticking around. I want to hug you, and I look forward to sharing more books with you! <3