I love movies and sometimes it's fun to watch something completely random without knowing what it's about. We had this Canadian scifi horror lying around, so hubby and I made it our Sunday evening entertainment. I'd never heard of Stranded before, but I'm eager to watch small-budget scifi for its originality. I've come across some real gems. And this had Christian Slater in it, so how bad could it be?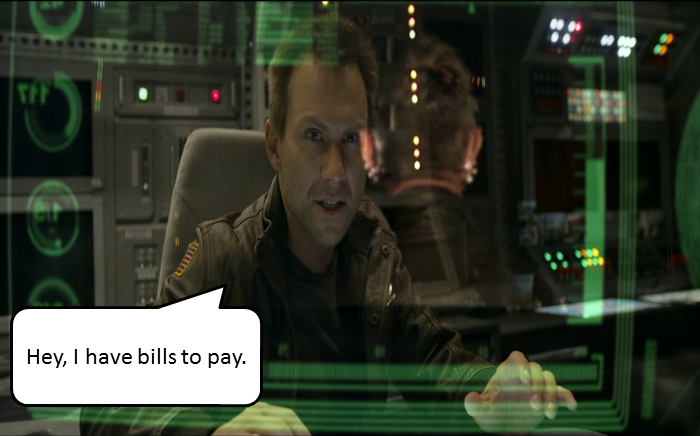 Well, it was terrible. We found out afterward that this movie has 3.5 on IMDb, and that's 1.5 points too many in my opinion. I give this movie 2 points out of 10—the soundtrack was beautiful and the lunar base interior looked nice (the exterior was so obviously a miniature they might as well have built it out of Lego, but that's beside the point)—the rest was a complete disaster.
WARNING, this angry rant contains spoilers and bad language.
So what do we have? The movie starts off okay. We have a small base on the surface of the Moon, manned by four people—three men and one woman. A meteorite bombardment destroys part of the base and the crew loses communications with Earth. They also end up with elevated levels of CO2 in the air, which might lead to hallucinations. They grab one of the meteorites that fell on them and decide to take a closer look at it. So far so good. The acting isn't mind-blowing and the dialogue is a bit weak, but I'm still on board. I can enjoy run-of-the-mill scifi; just tell me a story and I'm happy.
The doctor of the mission splits the meteorite in half and discovers organic material inside that starts to replicate like crazy. In a few minutes he's looking at a mess like this: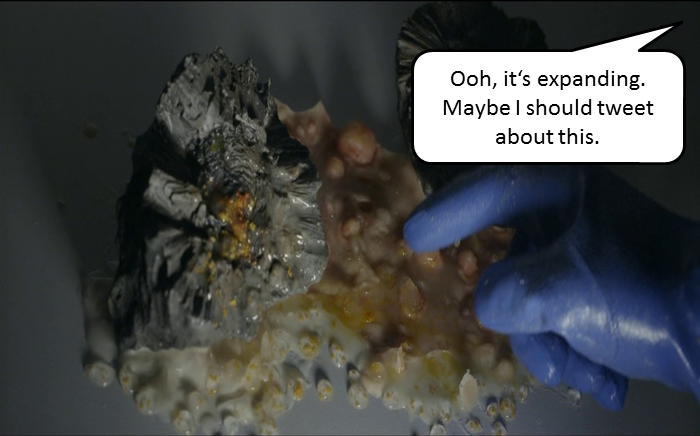 I would be alarmed, but he merely seems mildly curious as if he encountered stuff like this on a regular basis. He shows it to the science officer and she puts some of the alien cells into a centrifuge. She cuts her finger on a broken test tube. I rolled my eyes at this, but what the heck; this is how the virus spreads in most other movies, too. But then the woman—supposedly a competent crew member—just wipes her finger and doesn't tell anyone that she just got contaminated! A moment later she's dizzy, but when the guys question her, she claims she's fine. The low IQ of the entire crew is starting to bother me. The woman doesn't seem to want medical attention, and the doctor who actually sees her feeling ill only shrugs and goes back to minding his own business.
And it just goes downhill from there. The woman passes out in the hallway. She wakes up in the sickbay where the guys have carried her. She has a swollen belly as if she was pregnant. By now it should be obvious that something has infected her, but she still doesn't say anything to the doctor! She merely freaks out and whines that the guys shouldn't leave her alone, never mind that she's compromising their safety.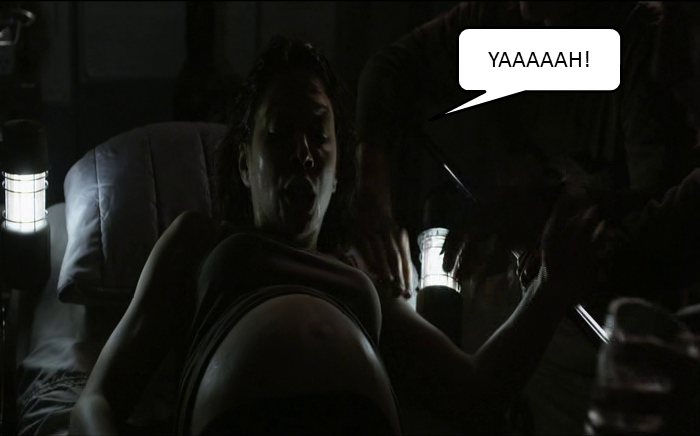 The guys should totally put her in quarantine, but the doctor is of the opinion that they can't leave the dumbass lady by herself because she's so scared. Seriously? But he also claims he doesn't know what's wrong with her and he doesn't know how to treat her. So why the hell should he stay with her then? If all he can do is hold her hand, why can't he go do something more useful? Plus, it never occurs to anyone to wear sterile suits when around her.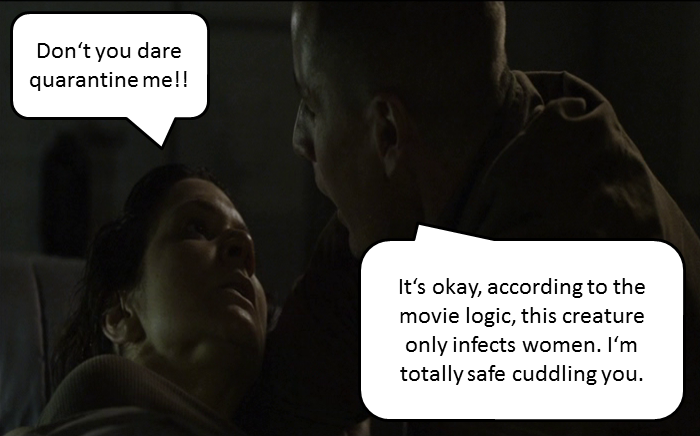 Then they leave the woman alone after all—completely without supervision. I guess the doctor had more important things to do, after all. The freaky alien pregnancy comes to full term in a matter of hours, and the woman gives birth to…something. The guys find her in a puddle of blood and other fluids. She's alive, so they only pick her up from the floor and put her back to bed. The doctor doesn't bother to examine her more closely or look for the thing that came out of her. He thinks that she might have simply had a cyst that ruptured.
At this point I started to desperately hope that the movie isn't as dumb as it appears to be—maybe the doctor is a double agent. Maybe he's under secret orders to breed alien life, which is why he's so sloppy and gives false information to the rest of the crew. Nothing but wishful thinking, I'm afraid. Unfortunately no one was acting stupid to cover up a hidden agenda; they were all just PLAIN. STUPID.
Then there's the engineer guy. The alien spawn bites him in the leg. The engineer tells the doctor that something bit him, but the doctor doesn't believe him. The doc patches his leg. He tells the engineer he must have cut himself on some glass and is hallucinating due to the CO2 in the air. The doctor's ever more blatant incompetence makes me want to scream. Not only can't he tell a pregnancy from a cyst, he also can't tell a glass cut from a bite mark. WHERE THE HELL DID THIS IDIOT GO TO MED SCHOOL? WHY IS HE ON THIS MISSION?
But anyway, back to the engineer. After the science officer gave birth, the engineer is up to his elbows in her blood.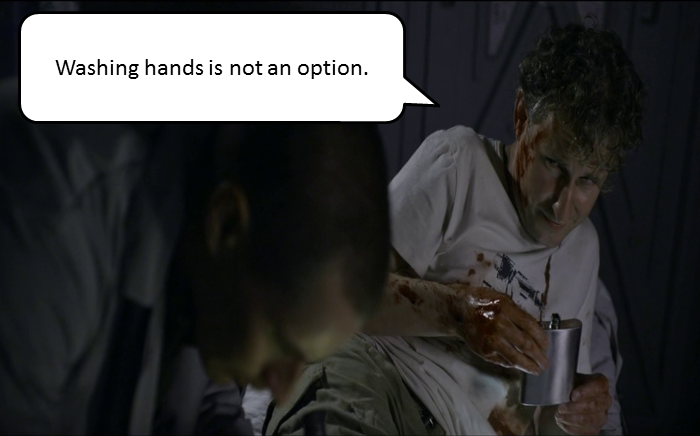 He goes around popping pills and boozing, practically licking the infected blood off his hands in the process. No one tells him to stop drinking on duty or even go wash his hands. The funny thing is, I expected this to have consequences. The woman in this movie got one nick on her finger and got instantly pregnant, but apparently the guys can go around eating, drinking, and inhaling alien cells without a care in the world. But whatever.
The alien grows into a human-like thing. It kills the doctor and the engineer (excuse me for not caring). The leader of the mission and the science officer eventually decide to escape the base.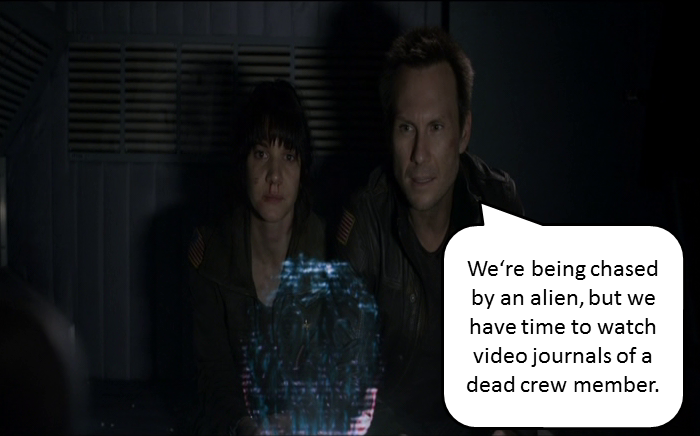 They prep the escape pod, but then the alien gets into the pod first and flies to Earth, leaving them behind. At this point I hoped to see these two idiots die simply because they deserved it, but no. Just as they're running out of oxygen in the damaged lunar base, a miracle rescue ship arrives. The movie ends with the alien landing on Earth and mutating into something monstrous—an obvious cliffhanger, as if they hoped to make a sequel to this dumpster fire. When the credits rolled, my topmost thought was WHO SCRIPTED THIS SHIT?
I was majorly pissed off. I wanted to be entertained; not to be pulling my hair out and groaning at the dumb plot and the dumb characters. But there's definitely something positive to be gained from this experience. A silver lining! I realized that I could write a better movie script than this, and my dear fellow writers, so could you!
THE 3 BIGGEST FUCK-UPS IN THIS MOVIE AND HOW TO AVOID THEM:
1. GROSS INCOMPETENCE AS THE MAIN PLOT DEVICE
The entire plot in Stranded is driven by the characters' utterly flabbergasting incompetence. I didn't even get to Christian Slater's character and his complete inability to impose discipline on his crew. The only reason why the hostile alien gets to transform from a few cells on the Moon to a bloodthirsty monster on Earth is because the humans let themselves get infected, don't bother to investigate it or contain it, and in the end they even show it the way to the escape pod so that it can go and infest their homeworld. What were the creators of this movie thinking? Nobody wants to cheer for such idiots!
…HIDDEN AGENDA AS THE MAIN PLOT DEVICE
Ridley Scott's fabulous Alien (1979) does it better. You have the explorer guy with the infamous facehugger on his face, and his concerned buddies try to bring him back into the ship. The crew member in charge of the ship, Ellen Ripley, says no; you're not bringing that shit on board. She refuses to open the door because she's observing regulations and she's prepared to sacrifice the lives of the three people outside in order to protect the ship and the rest of the crew inside. That's a competent badass character right there!
But then the science officer Ash lets the infected guy in against Ripley's orders. We find out later that Ash is under secret orders from the company to bring an alien specimen to Earth—the human crew is expendable. Do I even need to underline how brilliant this is? You have characters with opposite interests and they're all doing their best to achieve their goals. Shit hits the fan because you have a traitor on board—not because you yourself are too stupid to recognize danger. Learn from the master!
2. NO CHARACTER DEVELOPMENT
There's no character development in Stranded, unless if you count the alien—he went from a few hibernating cells to an intelligent creature, which is quite an accomplishment, actually. Maybe I should cheer for the alien. The four humans start and end equally boneheaded, and two of them even die of their combined stupidity. Maybe that's development?
…ACTUAL CHARACTER DEVELOPMENT
You know why I love Pitch Black (2000)? It's not because of Vin Diesel's first appearance as Riddick, even though he's super hot in this movie. What I loved the most was that this movie had character development. The badass female protagonist Carolyn Fry starts off as someone who cares more about her own ass than about the lives of the passengers on her ship—but in the end she's prepared to sacrifice her life for others. Riddick, similarly, starts off as a selfish criminal who only cares about his own survival, but he too, in the end risks his life to protect others. This movie makes me FEEL something! I love these characters because they go through personal journeys in addition to fighting an alien menace. They learn good qualities from one another. This is what all good stories are about: characters bonding and growing.
3. GET YOUR SCIENCE RIGHT!!
This should be self-explanatory, especially in a science fiction movie. Do I want to bring up again the stupid doctor who doesn't seem to know the first thing about medicine? No, let me mention something else instead. At the end of Stranded where the leader of the mission and the science officer are sitting and waiting to die, a rescue ship lands outside the lunar base. He perks up and goes like "Do you hear that?".
We're given a shot of a shuttle landing accompanied by impressive roaring and hissing of engines.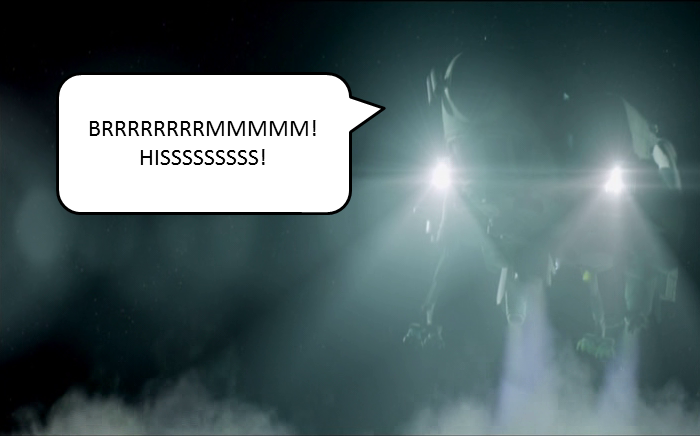 Sigh. Are you thinking what I'm thinking? Yup. Sound in space. The makers of this movie conveniently forgot that sound does not carry in space because the distance between two molecules is too great for sound waves to make it. So there's no way Christian Slater's character (or the film audience) would hear anything. At most C. Slater might feel the floor vibrate if the rescue ship makes a rough landing, but considering the weak lunar gravity…it's a bit so-so.
You don't have to be a scientist to figure this stuff out. Google will already get you pretty far when you don't want your "science" fiction movie laughed out of the theatre.
Anyway, I was angry because I wasted an evening on this, but I actually feel a lot better now that I ranted about it. Do you need to vent? Tell me which movies made you want to explode. It doesn't have to be scifi.
And afterward everybody, go write! If rubbish like Stranded is made into a film, you have a real chance to see your own—much better—works on the silver screen. I want to watch the movies based on your books!