Yesss, it's cover reveal time!
I know I've been quiet for quite a while. In fact, I've been so quiet that you may have thought I was dead or maimed, but I've been working behind the scenes. I'm so excited to share with you the cover of my new book Hers, Unbroken! Take a look at the sexy beast below. 😉
Cover design by the amazing Melody Simmons.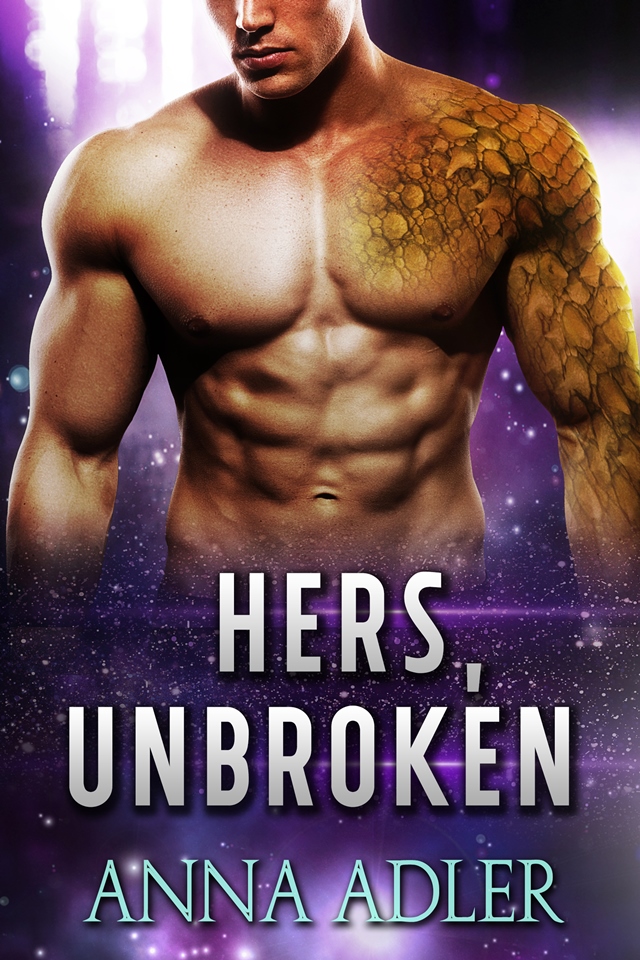 BLURB:
How far would Chase Decker go to find a mate?
Would he allow himself to be captured and sold? Spend the rest of his life as a woman's sex pet?
Bring it on.
Being owned by a woman was his secret fantasy. Lucky for him, human-alien hybrids are a hot commodity on Silenia, so when Chase is caught and a sexy female pet trainer appears before his cage, it seems like his fantasy may come true.
Head pet trainer Holly Danek turns out to be everything he ever wanted. With a little push, she might do eactly what Chase wants from her—claim him as hers. But Holly is a dissident in a totalitarian society, fighting a hopeless battle to help the captive aliens on Silenia. She's torn between her feelings for Chase and the other aliens she can't leave behind.
Becoming a pet was the easy part. Now Chase, a thief and a drifter, has to become something he never was—a hero.
Even with a death sentence hanging over his head, he won't back down. He must prove to Holly that their passion is stronger than the shackles binding the slave planet's population. He must prove that together, they just might be able to achieve the impossible…
Note to reader: Hers, Unbroken is an erotic science fiction romance featuring a romance betweeen a human and a human-alien hybrid. This is the second book in a series, but it can be read as a standalone. No cliffhangers! If you enjoy action, dystopian scifi, and steamy sex tied up with a happy end, this might be what you're looking for!
Ebook publication date: June 15th
How about adding Hers, Unbroken to your to-read shelf on Goodreads? Go ahead and click the button:

SPECIAL OFFER!
If you want a free ARC (Advance Reader Copy) of this book, subscribe to my newsletter before the end of May 2018. I'll email you a download link as soon as I finish formatting the book.
You can unsubscribe anytime, no hard feelings. If you're already a subscriber (or one of my beta readers), simply wait for me to get in contact with you.
I can't wait to share this story with you!