My new book Hers, Unbroken has been released! This calls for a big, hot cover image. 😉 Here you go: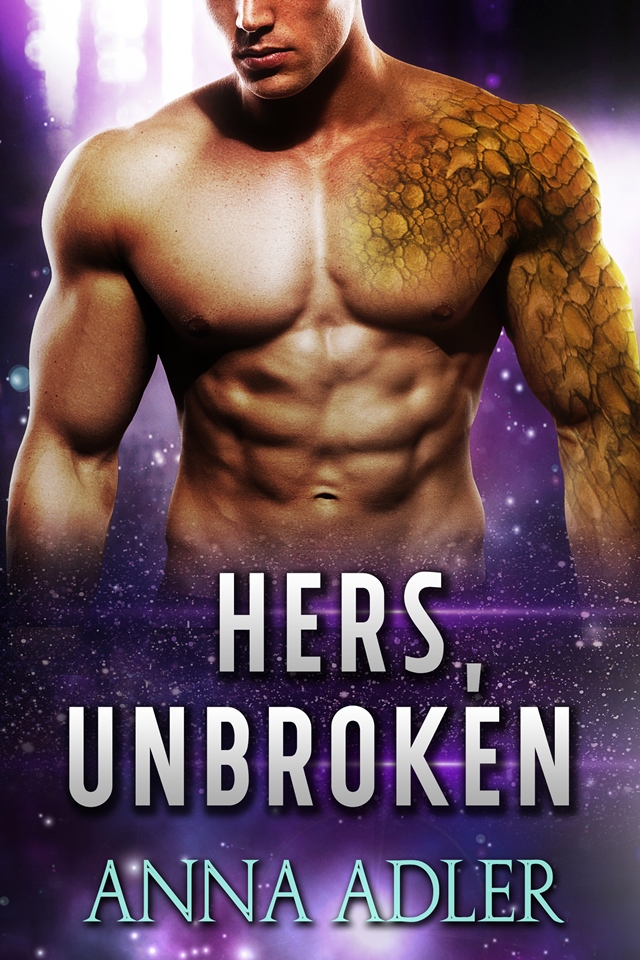 DESCRIPTION:
Chase Decker wants to be enslaved. Holly Danek wants to set him free. Is it possible for both of them to get their wish?
Ever since Chase heard about Silenia, he wanted to go there. A planet where human-alien hybrids such as him are kept as sex pets is the realization of his darkest fantasies. The only downside? He'll be killed if he tries to escape, but Chase won't let inconvenient little details get in his way. He lets himself get caught. Now, all he has to do is pass the pet training program and wait for a sexy female to buy him.
Holly is the head trainer in Silenia's best pet training center. She hates her job. She secretly wants to set free all the enslaved aliens on Silenia, but she's powerless to realize her dream. Meeting Chase turns her life upside down. All of a sudden she has an ally: a man who matches her deepest fantasies. But then Chase's misbehavior marks him for death and the clock is ticking. Can the two of them change an entire world in 48 hours?
Note to reader: Hers, Unbroken is an erotic science fiction romance featuring a romance between a human and a human-alien hybrid. This is the second book in a series, but it can be read as a standalone. No cliffhangers! If you enjoy action, dystopian scifi, and steamy sexy times, this might be what you're looking for!
—
HERS, UNBROKEN IS AVAILABLE ON AMAZON!
Amazon US — Amazon UK — Amazon CA — Amazon AU
More specifically, I've enrolled it on Kindle Unlimited, which means that it's exclusively published on Amazon for the time being. This book will be available on other retailers later. If you read on Kindle Unlimited, grab Hers, Unbroken as soon as possible before it leaves the program!
—
BACKGROUND NOTES

Hers, Unbroken is a completely new milestone for me.
It's my first "second book in a series", taking place on the same exoplanet as Hers, Untamed. Actually, Hers, Untamed was originally intended as a standalone, but of course the complete world existed in my head. So many characters, events, details about Silenia, and other things never made it to Hers, Untamed, and I really wanted to write more. I was so excited when readers also said they wanted more. More information about Silenia, more Jax and Alyssa… One reviewer even said she wished Hers, Untamed had ended on a cliffhanger, which has got to be the craziest compliment I have received to date.
So I decided to turn this into a series and write all the stories I had in mind. I initially planned Book 2 to be about Alyssa's friend Lucia, but next thing I knew, Holly and Chase wanted their story told. As much as I had fun with Jax and Alyssa, I didn't want to write the exact same setting twice, so I turned things around. In Hers, Unbroken you get a hot, masochist male who wants to be a pet, and a Silenian woman who's rather conflicted about her desires. But she won't be able to resist Chase… 😉
I hope you enjoy the book!
More adventures in this series will follow…