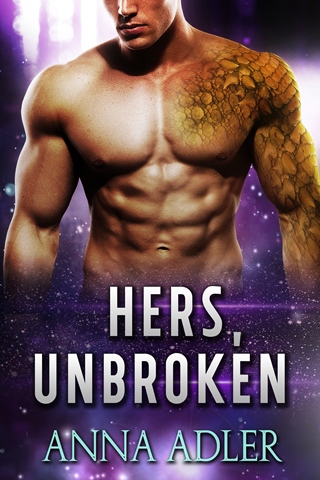 Now is the last opportunity to read Hers, Unbroken, Book 2 in my steamy scifi romance series, on Kindle Unlimited. The book is leaving the program on December 11th, 2018. If you love sexy aliens, and Kindle Unlimited is your preferred reading medium, grab a copy of Hers, Unbroken ASAP!
(Psst, Book 1, Hers, Untamed, is available for free if you haven't read it yet.)
Here's where you can find Hers, Unbroken currently:
Amazon US – Amazon UK – Amazon CA – Amazon AU
After leaving Kindle Unlimited, Hers, Unbroken will become available on Nook, iBooks, Kobo and Google Play in addition to Amazon. If all goes to plan, it should happen by December 15th, 2018.
WHY ARE YOU TAKING THIS BOOK OFF KINDLE UNLIMITED?
Publishing through Kindle Unlimited (or KDP Select) means that Amazon holds exclusive distribution rights to the ebook, and I can't publish the ebook on any other retailer (so it's anything but UNlimited, if you ask me). I wanted to give Kindle Unlimited-readers a chance to read Hers, Unbroken, but ultimately I want to make it available also on other retailers alongside Hers, Untamed. Some wonderful readers on Google Play have already emailed me asking about Hers, Unbroken, and I'm happy to say it's on its way now!
IN OTHER NEWS (AUTHOR LIFE UPDATE)
In other news, hubby and I moved house! Unfortunately the rest of my life has been on hold. I feel as if I've spent the second half of 2018 in some kind of limbo, surrounded by moving boxes. At this point I have only vague recollections of the whole thing. I seem to recall there was a murderous heatwave in the summer while we were moving all the heaviest stuff. Also, our new apartment didn't include a kitchen (don't ask), so we had to have one built. The moving bureucracy was something awful, which hardly makes sense considering we only moved from one hillside to another within the same town, but that's Germany for you. All in all it was exhausting, but we made it! We're so excited to be living in a new, better apartment that does NOT have mold growing in the bathroom ceiling.
I'm looking forward to 2019, shaking off the brain fog, and getting back to something resembling a writing routine.