Hi everyone!
I'm finally ready to share the cover of my upcoming, super steamy scifi romance novel Hers, Untamed. Without further ado, here it is.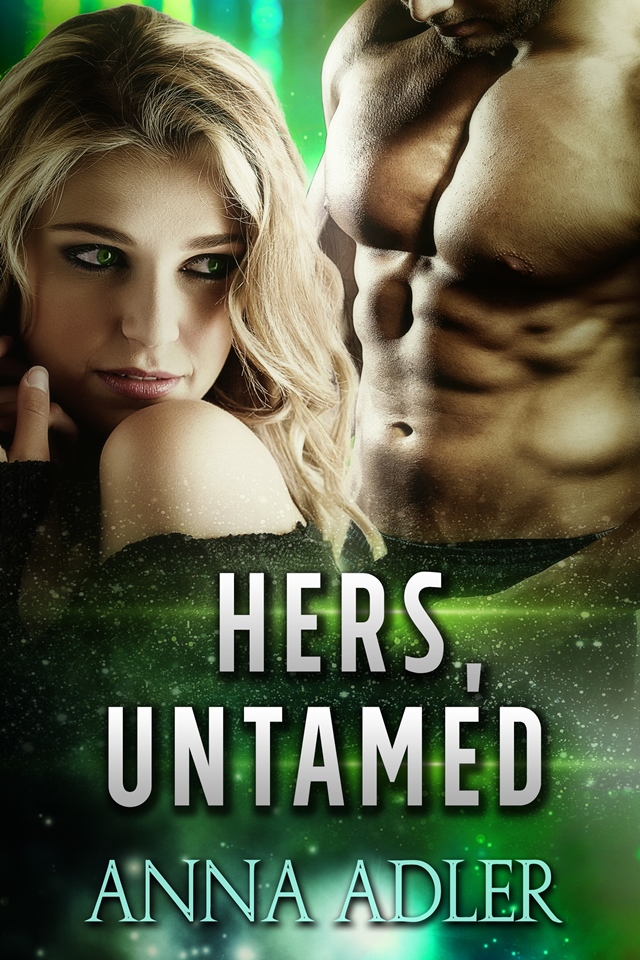 THE EBOOK PUBLICATION DATE: MAY 31ST 2017
Cover design by Melody Simmons.
WHAT THE STORY IS ABOUT:
"Alyssa Cressfield always wanted a pet—a big, sexy man who would look impressive on a leash. Now, she is finally ready to realize her dream. She visits a pet training center, intending to buy a trained pet. Instead, she finds Jax, a fierce human-alien hybrid freshly caught from space, still untamed and unbroken. Alyssa has never encountered an untamed pet before. She can't resist temptation; she must have him.
On Silenia, it is customary for humans to keep other intelligent species as pets and sex toys. Alyssa is kind at heart, but she is a product of her society and therefore sees nothing wrong with keeping a man in a cage against his will. Jax, on the other hand, is a space pirate who now finds himself wearing a collar and being treated like property. He has no intention of turning tame and obedient, and a battle of wills ensues. Jax and Alyssa quickly discover their undeniable chemistry, but is it enough to reconcile them? What happens when the pet breaks out of his cage?"
Note to reader: This is a standalone novel featuring a romance between a human and a human-alien hybrid. While not dark, the story is set in a dystopian society and contains some raunchy sex scenes between the main characters. Recommended for mature readers.

In other news, my debut book His Hostage is still on Kindle Unlimited, exclusively on Amazon. Kindle Unlimited subscribers are still downloading it and reading it, so I don't want to move it to other retailers yet. But I wanted to do something different with Hers, Untamed, so this book will be available on
Amazon
US: https://www.amazon.com/dp/B072L6SMBR

UK: https://www.amazon.co.uk/dp/B072L6SMBR
CA: https://www.amazon.ca/dp/B072L6SMBR
AU: https://www.amazon.com.au/dp/B072L6SMBR
Barnes & Noble: https://www.barnesandnoble.com/w/hers-untamed-anna-adler/1126315653

Kobo: https://www.kobo.com/ca/en/ebook/hers-untamed

Apple iBooks
Google Play: https://play.google.com/store/books/details/Anna_Adler_Hers_Untamed?id=hAPFDgAAQBAJ

Preorder is on the menu, starting 05/01/2017. I'll set up the links once I have them.
If you only read on Kindle Unlimited and were hoping to see Hers, Untamed on KU as well—don't panic. Hers, Untamed will be available for FREE on all its retailers (yes, that's right. I'll talk about my reasons in a later post 😉 ). You'll be able to get this book to your Kindle at no cost.

A quick note to my beta readers: You rock! I was so happy and lucky to get critique from you all. I'll email you in about two weeks and you'll get an advanced copy of the finished book as a thank you.
Everyone, check back on May 15th for the Chapter 1 reveal!